Self-aligning ball bearing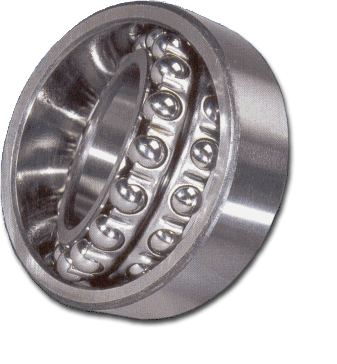 Self-aligning ball bearing has two rows of balls. There is a common spherical raceway whose center of curvature accords with the bearing center. Even through the inner race, the steel balls and the holder incline relative to the outer race, the bearing can rotate. So the bearing is self-aligning, and will not be affected by shaft disalignment relative to the bearing box. The self-aligning ball bearing is mainly subject to radial load. It can also be subject to a minimum of axial load, but it usually can not be subject to pure axial load.
The self-aligning ball bearing is applicable for occasions with sizable shaft flexion or shaft disalignment , such as the transmission shaft of precision meter, quiet motor, car, motorcycle, woodworker and textile machinery. It can also be applied on mining machine, electromechanical device, plastics machinery, office device, medical appliance, body-building and sports goods, and common machine etc. It is one of the bearings most widely used in machinery industry.